<! Table of space between top and first margin pic > <! Three-icon navigation pallet in margin - no mid link >
| | | |
| --- | --- | --- |
| | accuracy | |
<! Table of space between margin and body >
<! reg page body > <! Table containing text >

<! reg body text >
GPS Accuracy

---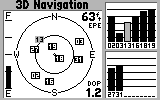 With good satellite coverage, the location displayed by your GPS receiver should be accurate to within 50 meters (164 feet) about half the time. Most receivers show "Estimated Position Error" (EPE), "Dilution of Precision" (DOP), or both, but these are only esimates based on satellite coverage and geometry.

Many things can degrade the accuracy of GPS positions. The most well-known of these is the intentional error known as "Selective Availability", but other errors can be far worse.

Make sure your GPS receiver is set up properly. If you'll be using GPS with a map, or for map-making, the datum used by the receiver should match the datum specified in the margin of the map.

GPS accuracy can be degraded by:
Operator error:
GPS receiver datum and coordinate-system settings, data entry errors like bad UTM Zone or degrees West instead of East, transcription and map-measurement errors, and magnetic/true bearing errors.



Obstruction of satellite signals:
When the signal from a satellite is suddenly lost, the receiver can get "garbage" data, or make bad assumptions or calculations. The same can happen as a satellite signal is restored. GPS receivers are designed to handle these obstructions seamlessly, but rare errors can be hundreds of miles.



Few useable satellites:
Less than 4 available satellites leads to a "2D mode" position, which is less accurate. Altitude must be assumed, leading to horizontal errors which can exceed a mile.



Selective Availability (SA):
See below - SA is "off", but may reappear. This is an intentional error to "deny accuracy" to recreational GPS users. SA is described below, along with some suggested solutions.



Poor satellite geometry:
When the available satellites are in one part of the sky, or nearly lined up, the receiver's calculations are less accurate.



Multipath interference:
Reflection of GPS signals from buildings or cliffs can change signal timing, or garble GPS data, causing position errors.



Atmospheric conditions:
Rain or snow can weaken signals, but are usually not a problem. Atmospheric refraction can change signal timing, causing position errors.



Satellite position errors:
Orbit and position data for GPS satellites are subject to "ephemeris" errors.



All GPS errors can "double up" if you store a position, then attempt to relocate it later with GPS. This is because the error when a location is marked can add to GPS errors while re-locating the mark.

GPS altitude errors can be 1.5 times as large as horizontal errors. On some older receivers, a "stale" position can be shown even with no navigation signals received.

Most of these errors are either small or easily avoidable by knowing and operating your GPS receiver well.



<! end of Table containing text >